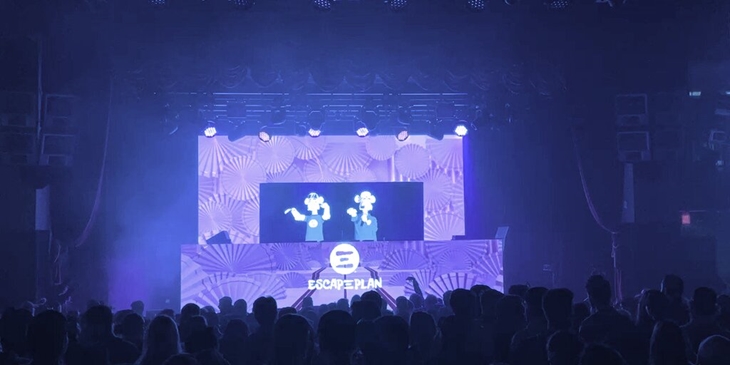 Looks like Hollywood is going bananas over NFTs. The talent agency WME—often considered one of the "big four" agencies in Hollywood along with CAA and others—has just signed the Bored Ape Yacht Club DJ duo ESCAPΞPLAN for all future bookings.
The pseudonymous duo's identities are represented by their Bored Ape NFTs. NFTs are unique blockchain tokens that exist on a network like Ethereum and signify ownership over an asset, like a Bored Ape. ESCAPΞPLAN consists of Bored Apes #309 and #4321, who go by zETH and ETHan, respectively.
Yuga Labs, the creator of the Bored Apes, is known for having a non-restrictive IP policy, allowing Bored Ape holders to use their NFTs for commercial purposes. The signing news comes shortly after electronic musician Dillon Francis announced that he would be accepting Bored Ape #378 as partial payment in a deal with Big Night Entertainment, which owns multiple nightclubs and manages ESCAPΞPLAN.
The Bored Ape duo will be releasing multiple songs with Francis later this year, who recently told Decrypt in an interview that all of ESCAPΞPLAN's video content would be animated and feature many Bored Apes. ESCAPΞPLAN's recent music video for the song "Jungle" with rapper Rich the Kid features 88 Bored Ape NFTs, according to Tim Bonito of Big Night Entertainment. "I had to have an Ape so that I could be in the music videos with ESCAPΞPLAN," Francis explained. Bonito sees ESCAPΞPLAN as a combination of Web2 and Web3.
He told Decrypt that electronic artists are, in his view, among the most receptive to NFTs and that the space is moving very fast. "Things change so quickly in Web3 that I think that in six months from now, the world is going to be completely different," he said.