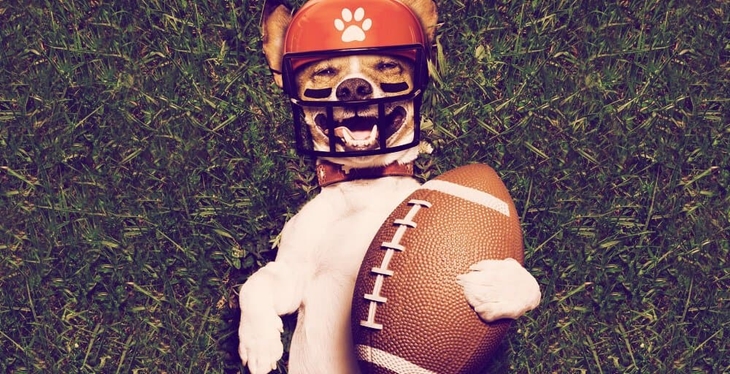 Woof! Here come Puppy Bowl NFTs. The Puppy Bowl has been airing on Super Bowl Sunday since 2005, but this year's event will include NFTs. The non-fungible tokens (NFTs) will be released leading up to and on the day of this year's Puppy Bowl, which will air on February 13 on Animal Planet.
Chronicle, an NFT marketplace, will offer 5,000 free "Puppy Bowl Pass" NFTs that grant users with first access to later drops. In total, there will be 23 different Puppy Bowl NFTs of varying price and rarity. A portion of the proceeds from sales will go to Orange Twins Rescue, an animal rescue organization founded by Ariana Grande and brothers Scott and Brian Nicholson, her former backup dancers. The 118 total Puppy Bowl puppies come from 67 different shelters and rescue operations spanning 33 states to compete for Team Ruff or Team Fluff.
Discovery, owner of Animal Planet, announced the news last week, but it took until this week for Twitter users to hear the news—and as with many recent NFT announcements, many people did not like it. Interestingly, Discovery's description of the NFTs makes it clear the media conglomerate is very aware of the environmental backlash to NFTs. The announcement touts: "These NFTs are not driven by high-energy Proof of Work systems but rather by solutions that are Proof of Stake-driven, and with a commitment to reduce their carbon footprint." Discovery is hardly the first big consumer company to buy or launch NFTs. Pepsi, Visa, Budweiser, and Charmin are just some of the brands that have done it, with varying degrees of buzz and impact.
More recently, gaming companies including Ubisoft have announced in-game NFTs and many have met intense pushback from gamers. This also isn't the first time we've seen NFTs find a home in America's most popular sport. In November of last year, Dapper Labs unveiled its football version of NBA Top Shot, an NFL-based NFT marketplace called "NFL All Day." NFL stars like Tom Brady and Rob Gronkowski have also personally jumped on the NFT bandwagon. Last year, Brady's NFT company Autograph partnered with Draftkings Marketplace to launch its first NFT collectibles featuring the future Hall of Fame quarterback. Gronk made a swift $1.6 million from his NFT auction an OpenSea.